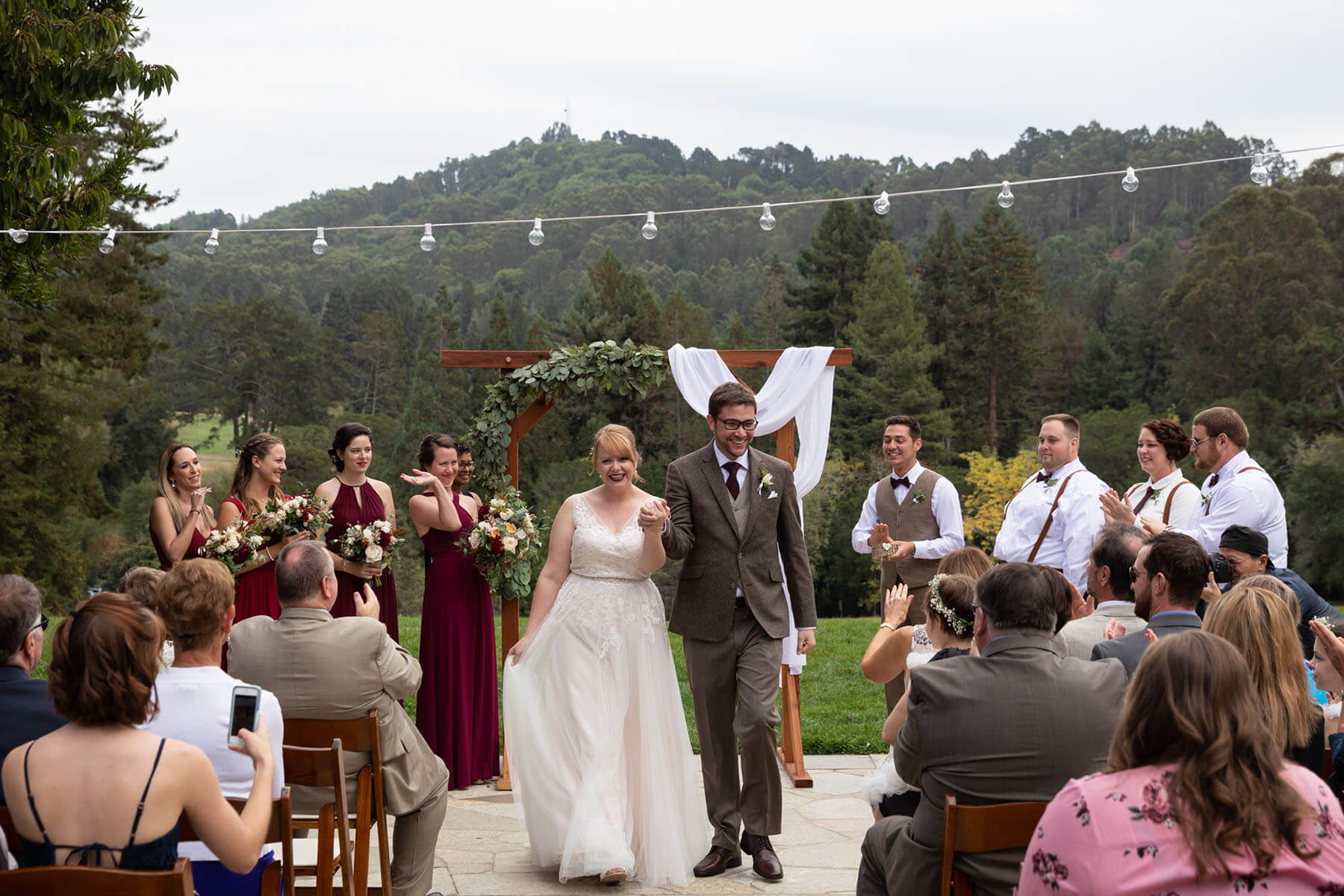 Katie and Kevin's Brazilian Room Tilden Park wedding fell on a Sunday and was my second wedding of the weekend. I'll let you in on a secret – double wedding weekends can be challenging at times. But wouldn't you know it – I walked into Katie's hotel room and instantly felt refreshed and ready for the day. Katie is one of the smiley-est, most enthusiastic people I've met, and just seeing her excitement on her wedding day was sufficient to rid me of any tiredness I might have felt. I'm sure those that know her can attest to this quality of hers! It was hard not to get choked up even during the getting ready portion of the day because the emotion was so palpable.
Once everyone was dressed, Katie and I snuck downstairs at the iconic Claremont Hotel in Berkeley for a few bridal portraits. We found this amazing blue library and had some fun playing while waiting for the other girls to come down. Then we all headed over to the Brazilian Room in Tilden Park for the festivities.
BRAZILIAN ROOM TILDEN PARK
The Brazilian Room Tilden Park is a lovely event space in Berkeley, and is one of my favorite East Bay venues. I love it for the quaintness of the building, the majestic views from the ceremony space, and just the fact that it's in a park so there is nature all around. When we got there, we went right in to the first look between Katie and Kevin. This was such a great moment for them to spend together before the ceremony (and for us to capture). We then did a few more portraits before it was finally time for the main event – the getting hitched! It was a sweet and peaceful ceremony, including a moment of silence and a handfasting. After it was over, there was such an outpouring of congratulations and cheer! Hugs, laughter, tears were had all around. Cocktail hour and family photos ensued, and then it was time for dinner! Right after dinner started, we all (that is, the couple and the photo team) drove up to Grizzly Peak for photos. We were hoping to get some sunset, but it was, alas, fully overcast. That said, the view is still incredible and allowed for some lovely evening shots. When we got back everyone was treated to some amazing toasts before the dancing began. Katie and Kevin started it off with their first dance, followed by father-daughter and mother-son dances. And then, of course, party time!
BEST WISHES
Katie and Kevin are two of the nicest people I've ever had the chance to meet – working with them that day did not feel like work, and I was once again reminded of how lucky I am to get to do what I do and to work with the amazing clients I get to meet every year. Katie and Kevin – Congratulations! I am so, so happy for you two – your joy is infectious, and may it continue to grow from year to year.
Wedding Partners:
Venue: The Brazilian Room
Planner / Coordinator: Two Friends Events
Caterer: Miraglia Catering
Florist: Farm Girl Flowers
DJ: Bert at DJ by the Bay
Cupcakes: Carolyn Wong Cakes
Officiant: Rachael Tanner at Officially Hitched