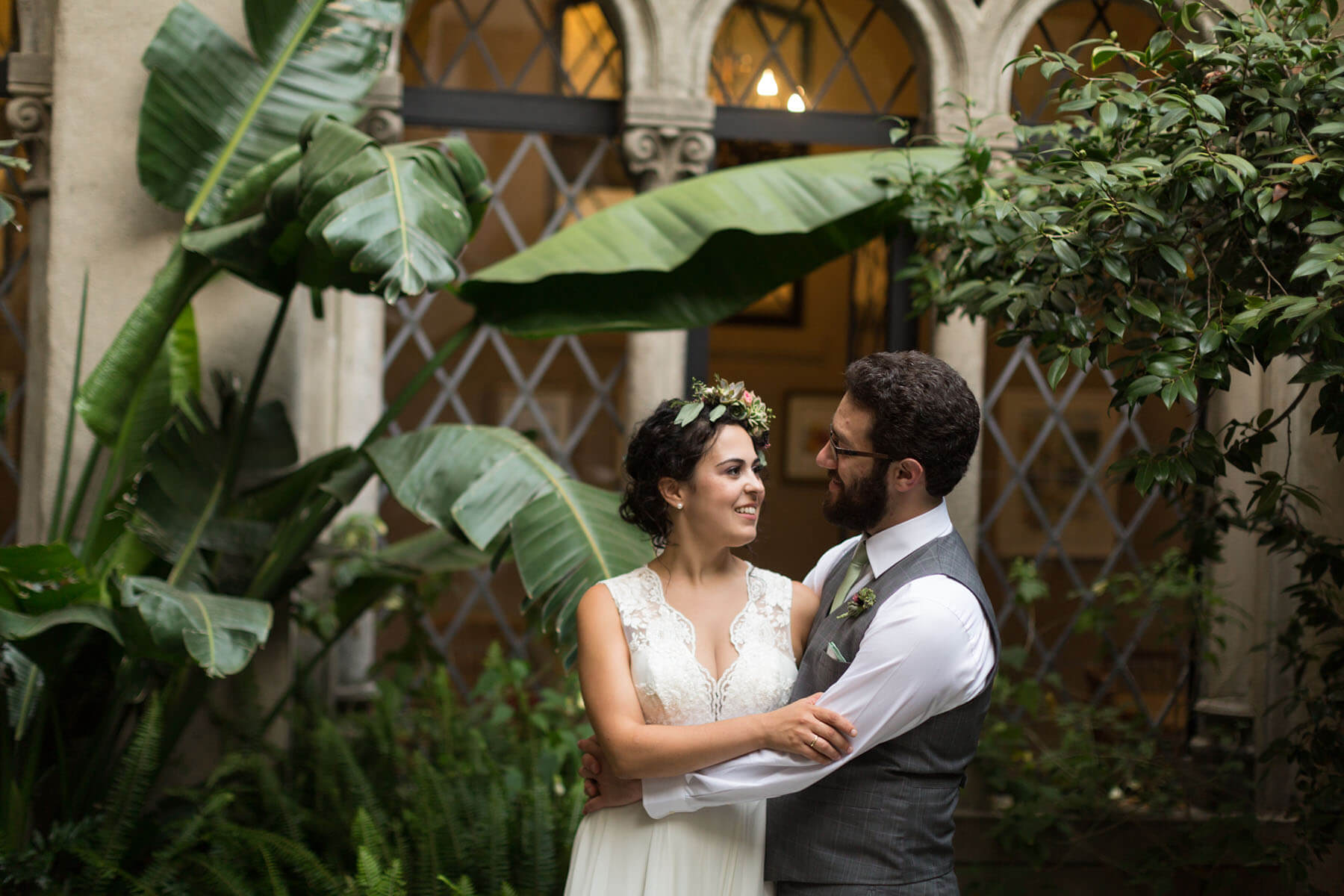 I first met Becca and Sam over a year ago when they were visiting from the East Coast. We talked a lot about their wedding plans – how they wanted to intertwine Jewish wedding traditions into their otherwise nontraditional world views – and I was so excited to see those plans come to fruition earlier this month. We started the day on at the Vista Lot in Berkeley – a spot above the campus which (usually) has incredible views on the city. On this particular day the haze took over the view, but it didn't dampen the excitement one bit. Here in the shade of a tree and surrounded by their immediate families and closest friends, Becca and Sam shared their version of a Bedeken – a first look ceremony. There were sweet words shared by both parents and the bride and groom got to see each other in their wedding clothes – as if seeing each other for the first time.
Following the Bedeken, we moved on to Coventry Grove – an East Bay concert venue that happens to be owned by a family friend. This gorgeous redwood amphitheater was a perfect spot for their wedding. We took some portraits and moved on to the signing of the Ketubah – a traditional Jewish marriage agreement. This was done with family and friends and singing. Finally it was time for the ceremony in the redwood amphitheater. There were a lot of words shared by family and friends, some laughter and surprises, all finished up with a kiss and the traditional breaking of the glass.
Then after some more portraits, it was time to eat and party at the incredible Berkeley City Club! The toasts had everyone crying until they laughed and laughing until they cried (Becca's dad especially brought down the house). The dancing started with the usual first dance between the bride and groom, but quickly moved into mother/son and father/daughter. More and more family members joined in, and then it was time for the Hora! In my eagerness to get a great shot I nearly got trapped in the midst of dancing circles (totally worth it) while second shooter Nicole was wiser and captured the scene from the safety of the stage :P.
Becca and Sam – it was so awesome to be a part of your day! I so admire how you included your loved ones in your celebration, and how you put together the whole day in a way that spoke to who you are. I wish you nothing but a lifetime of happiness and adventure together!
Wedding Partners:
Venues: Coventry Grove and Berkeley City Club
Flowers: Rain, a (very good) friend made all the flowers!
Hair and Makeup: Lacee Deniz
DJ / Entertainment: Benny Be
Dress: The Wedding Party
Cake: Katrina Rozelle
Photo Booth: Now ya Ngo
Catering: Berkeley City Club
Ketubah: Love by Leya