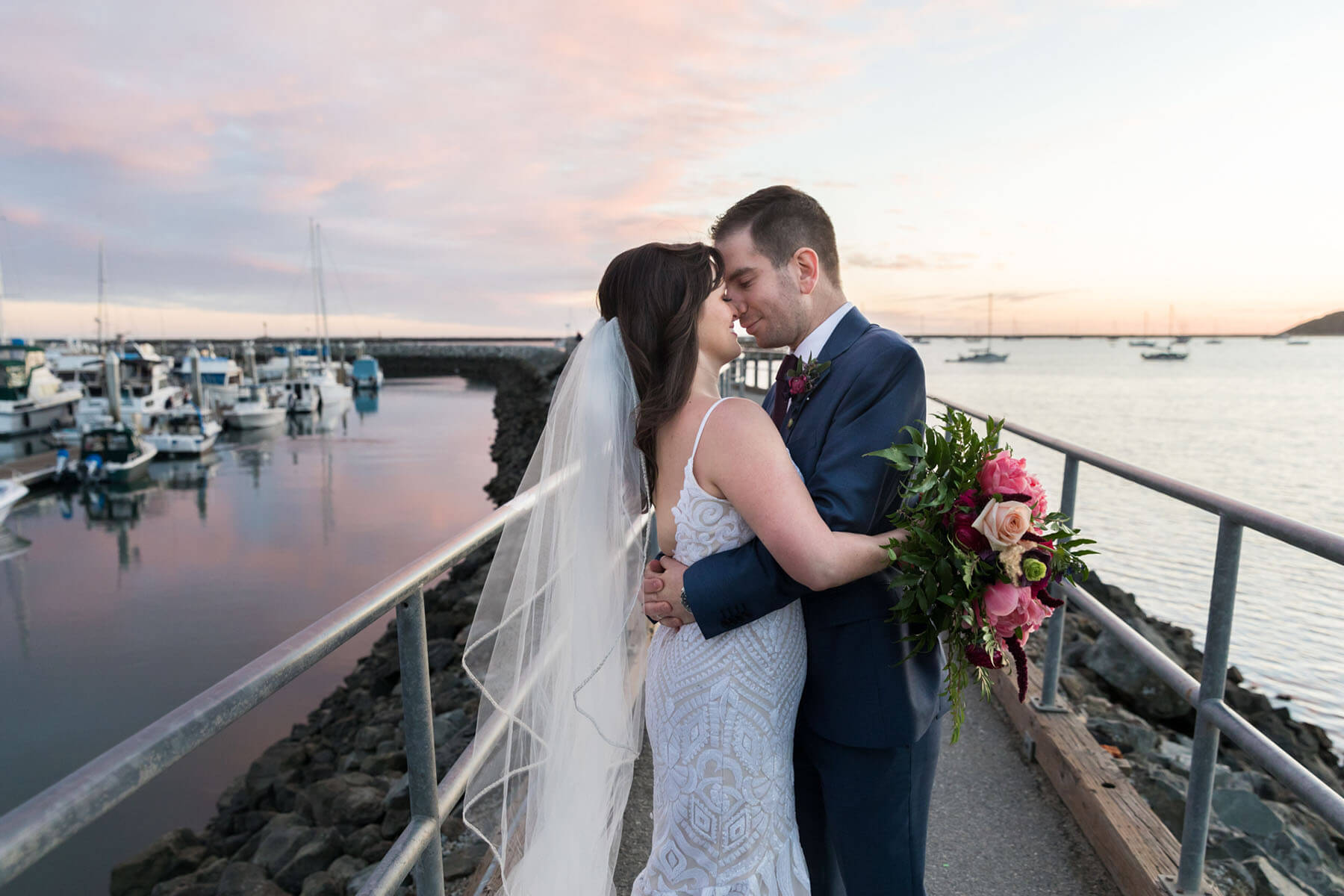 The weather leading up to Stephanie and Nate's wedding (my last one this year!) was precarious. It was looking cold, and every time I checked the weather, the likelihood of rain increased. 50%, 70%, 90%. When we did the walk through with them and Nancy at Oceano Hotel and Spa earlier that week, a rainy day game plan was set, but Nancy kept assuring us that the weather would clear. I was skeptical. Driving up to Half Moon Bay from San Jose, rain was pouring from the sky and I thought for sure, no question, the whole day would have to be indoors. And yet, as I drove over the hills to the coast, miraculously the clouds parted, the rain stopped, and a bright blazing sun came out. The stage for an awesome day was set.
Stephanie was a self-proclaimed anti-bride, and yet when she put on her stunning art-deco inspired gown and held her bouquet – you could have fooled me ;). After a few quick getting ready shots, it was time for the first look. Since it was quite windy and chilly outside still, we did the couple's and family photos indoors. Luckily, the light and decor in the hotel is just beautiful, so it was a perfect backdrop. Stephanie and Nate incorporated a number of Jewish traditions throughout their day, but in an updated way that felt true to them. There was a Ketubah signing indoors, and they said their vows under a beautiful huppah and broke the ceremonial glass.
After the ceremony we snuck off for a few more portraits the last 5 minutes of sun before it disappeared below the horizon. And then – it was time to party. Nate's dad said a blessing over the Challah bread, there were a few hilarious and touching toasts from siblings, followed by a tasty dinner. After dinner came the dancing – in addition to the first dance by the couple, the father-daughter and mother-son dances, there was also the Hora. After the Hora came an awesome surprise – the couple's siblings and friends planned a flash mob dance which Stephanie and Nate didn't know about (as far as I'm aware) and it went off without a hitch. After that, the party went on with dancing and drinking and all manner of merry-making.
Stephanie and Nate – congratulations, you did it! I am so excited to see what life has in store for you going forward.
Wedding Partners:
Venue: Oceano Hotel and Spa
Catering: Oceano Hotel and Spa
DJ: Los Gatos DJ Company
Florist: Ash & Oak
Hair and Makeup: Aqua Beauty Lounge
Dress: Haute Bride, Blush by Hayley Paige