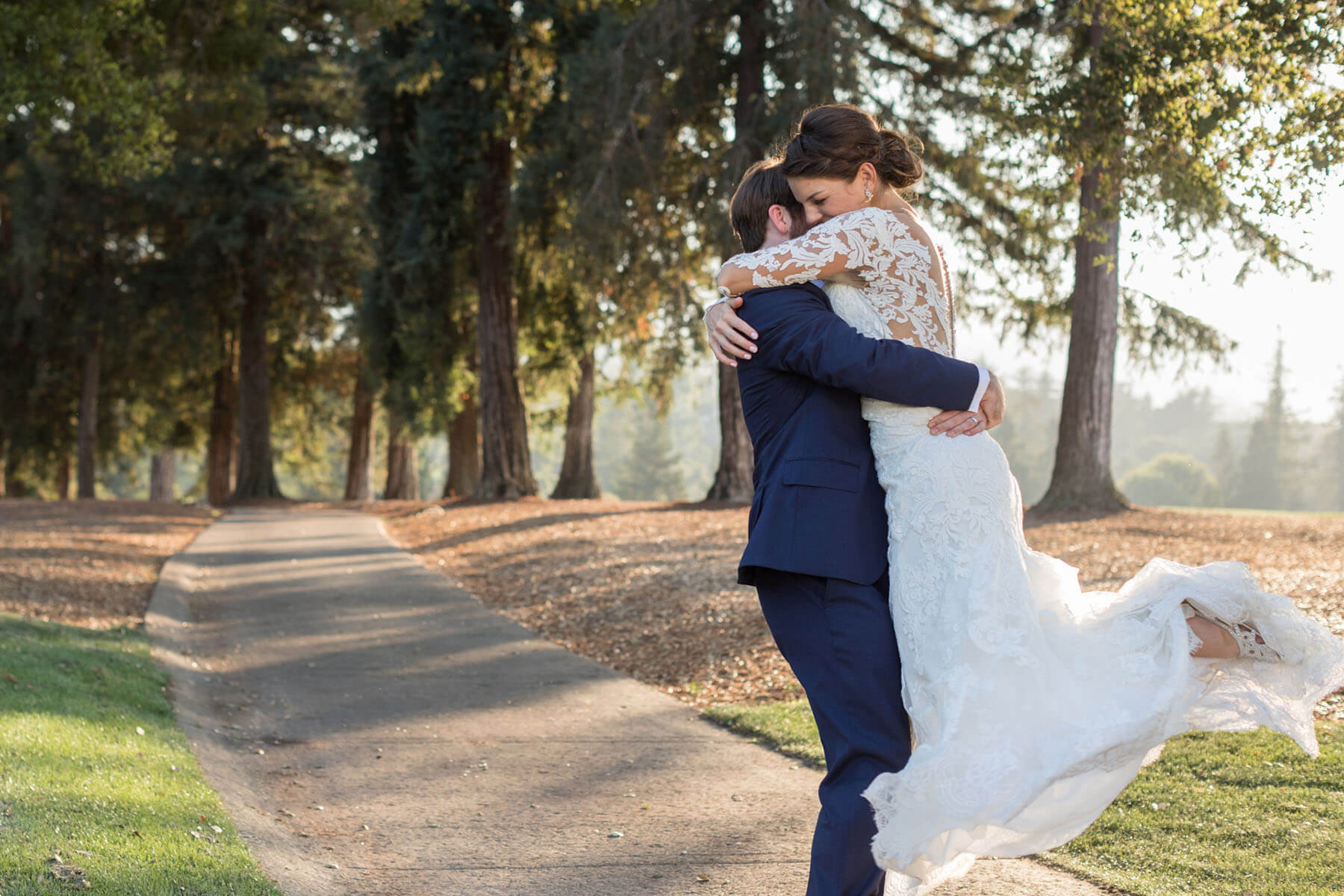 When Carly and Jesse first reached out to me last year, I knew off the bat that we were going to get along (and I was so so right). They are so joyful, full of life, and so in love, that I just couldn't wait to photograph them. The wedding day came together perfectly at the Mission Santa Clara and Los Altos Golf and Country Club.
We started the day with some getting ready shots, and already the emotions were coming. As someone who loves capturing emotional moments, I know it's going to be a good day when the happy tears start early on :P. We took some photos at heir rental house in Los Altos, and then headed over to the Mission Santa Clara for the ceremony. The Mission is such a cool part of this area's history, and it's always a treat to get to photograph that space. The service was beautiful and full of more laughter and tears as the priest shared anecdotes that Carly and Jesse had prepared. There was an especially sweet moment when everyone joined hands to pray and Carly's mom reached across the aisle to join hands with Jesse's mom. To me this act was such a beautiful image of their families coming together and becoming one family.
After the ceremony we took a few more portraits at the Mission, and then headed over to the Los Altos Golf and Country club for the celebration. Let me tell you, these folks know how to get down! With the live music and the wine flowing, everyone was having a great time. We stole Carly and Jesse right as the light was getting delicious to get some photos of the two of them on the beautiful grounds of the golf club. That place is such an unexpected gem! Beautiful views of the hills, beautiful light, and a joyful couple all came together for some of my favorite shots of the day. The night wrapped up with cake cutting and an obligatory dance to"Jesse's girl".
Carly and Jesse – I am so happy for you both! I hope the joy and laughs you shared on this day are just the beginning of many many more to come. Thanks for letting me capture one day in a lifetime love <3.
Wedding Partners:
Venue: The Mission Santa Clara de Asisi | Los Altos Golf and Country Club
Catering: Los Altos Golf and Country Club
Flowers: Farmgirl Flowers
Music: Wild Hare Band
Photo booth: Photo-Matica
Dress: Trudy's Bridal
Cake: Susie's Cakes
Hair and Makeup: BeautifulOne Makeup Artistry
Wine bottle favors: Carly's dad's winery, Barney & Kel Wines