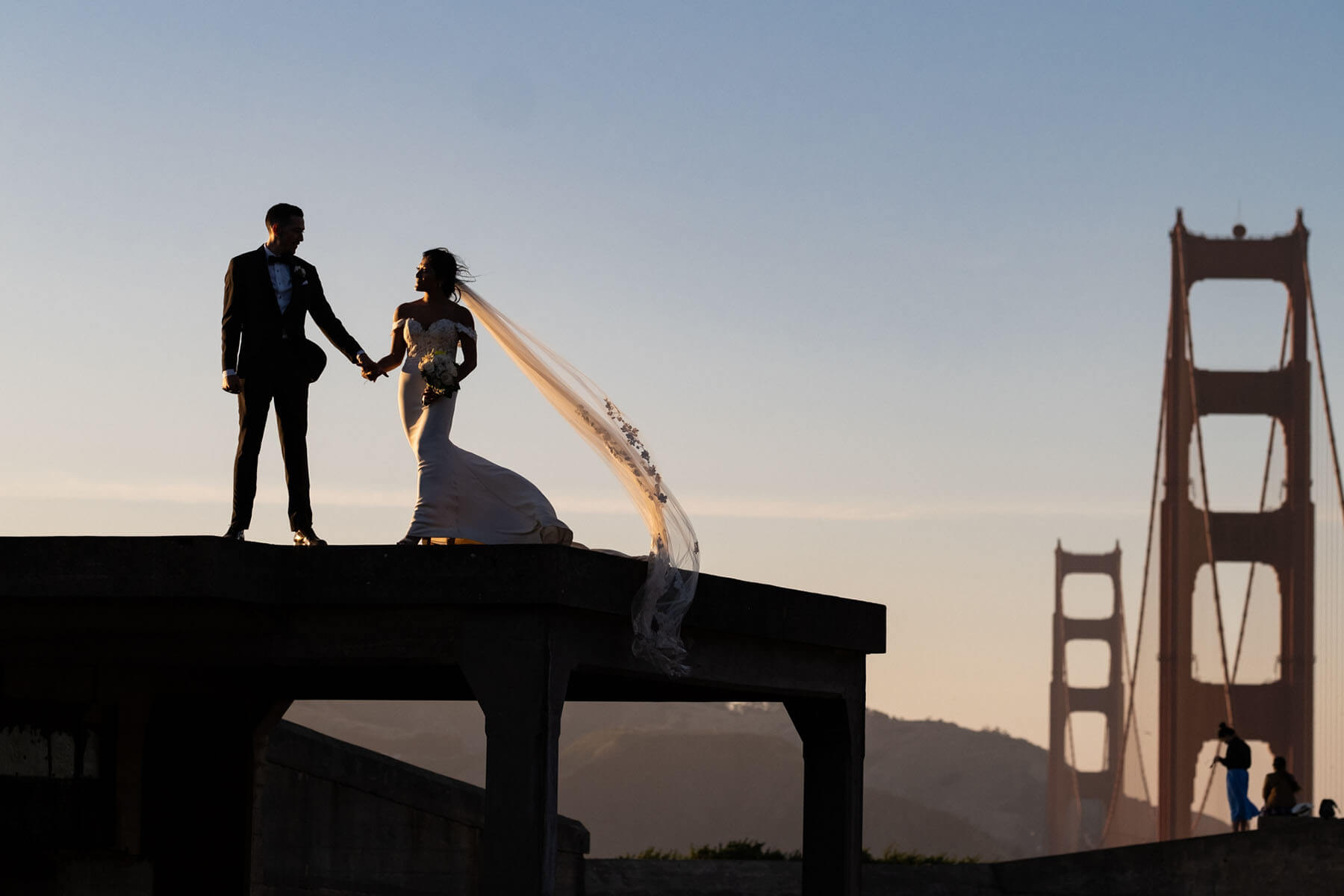 I first met Laurie and Mike at their friend Christian and Julio's wedding last year. Lo and behold, they were planning to get married as well and reached out to me. I am SO glad they did! Their wedding was quintessential San Francisco, but without the chaos and parking issues I often associate with that name (we even managed to avoid Pride traffic). The day started with Laurie and her friends and sisters, getting ready at the quaint and vintage Hotel Drisco. The atmosphere seemed super relaxed – just happiness and excitement, with a bit of silliness and laughter thrown in. Laurie looked stunning in her Pronovias Omura gown so we did a couple of quick portraits of her before heading out to the first look.
I had driven around earlier that week and found an amazing spot for the first look at Battery Godfrey, just across the street from their wedding venue, the Log Cabin at the Presidio. The location was perfect, and when we got there Mike was already waiting. We did their first look, and even grabbed some photos with their pup, Anthony! We walked around taking in the sights (and avoiding crowds of tourists and onlookers) and got a lot of beautiful portraits. Then it was time for the ceremony!
The Log Cabin in the Presidio is such a cool venue I had never even heard about. The views from the grounds are spectacular, with the golden gate rising up in one direction and the whole of the San Francisco skyline in the other. The building itself is also amazing – a true historic site with a classic log cabin feel elevated to luxury. The ceremony took place outside in the bright sunshine (not not super common in the city in June!)
Laurie and Mike planned a prolonged cocktail and mingle time, knowing that so often weddings move fast and people don't much of a chance to hang out. They really spoiled their guests with food trucks, boba, and even donuts! Before the reception moved indoors, we grabbed the couple and drove back out to the battery for some of the most incredible evening views the city has to offer. I don't need to emphasize how rare it is to get a gloriously clear sky along the coast in San Francisco, yet this was the gift the city gave us and we took it and ran with it. What resulted are some of my favorite portraits ever!
When we got back, the party truly began! There were some hilarious toasts, and Laurie and Mike started off the dancing with their first dance as husband and wife. These guys didn't mess around – everyone was getting down and even the windows shook from the music! Right before we took off for the evening, we snuck in one last shot of the happy couple with the San Francisco city lights in the background. You can be sure this is a day that neither they, nor their guests, nor we, will ever forget! Congratulations Laurie and Mike – here's to everything that's to come!'
Wedding Partners:
Planner: Amy Sedan at Hitch Perfect
Catering: Curveball Food Truck and Cochinita Food Truck
Flowers: Sol Ambiance
DJ: Paul Sembrano with MC Selena on Air
Hair and Makeup: Contour Bridal Haley Roberts
Tux: The Black Tux
Boba: Brew Bros Tea
Donuts: Krispy Kreme
Rentals: Bright Event Rentals