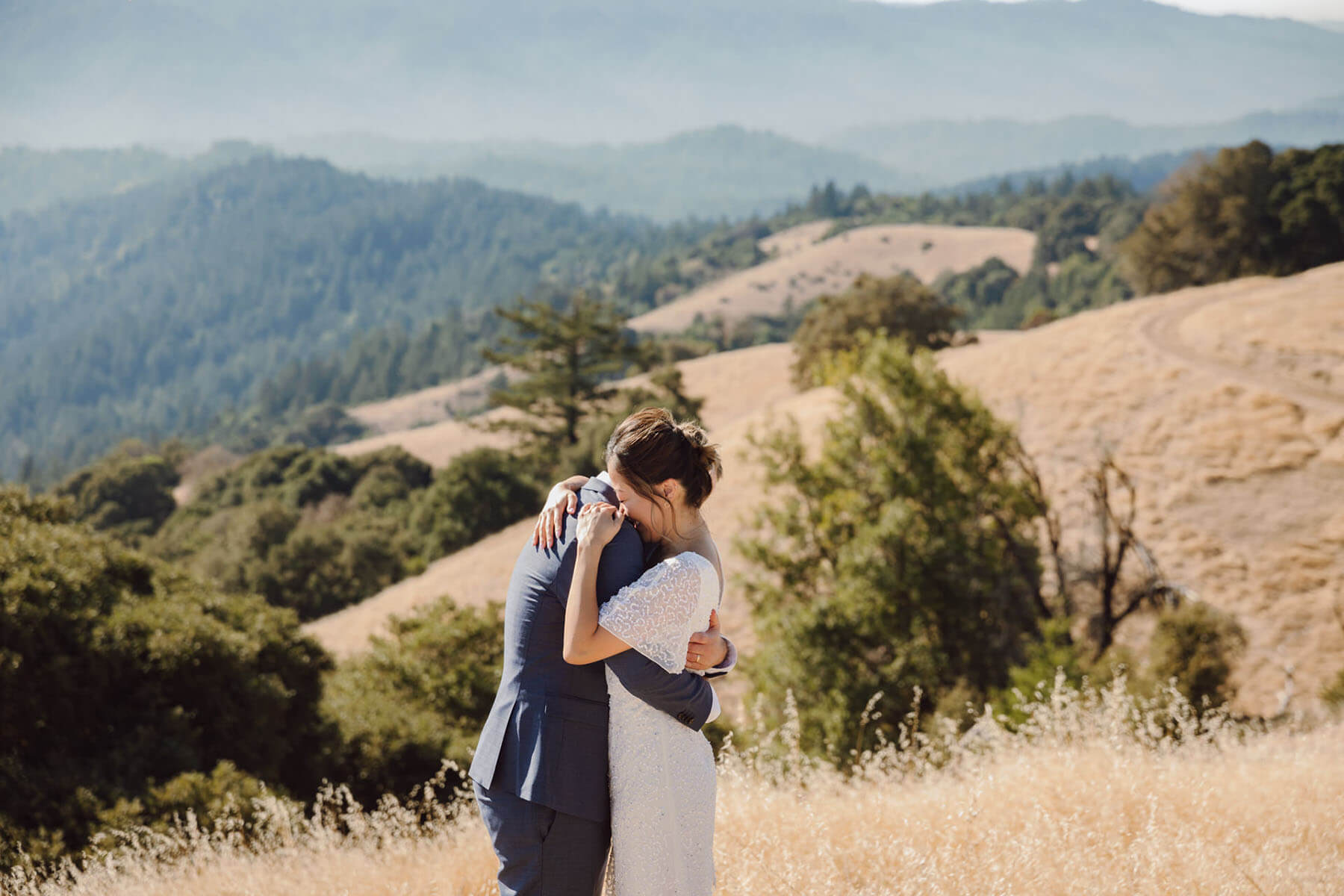 I'm so excited to finally share Catherine and Bastien's emotional and joyful Santa Cruz Mountains elopement! Their close family came from far and wide to celebrate this special day with them, and I loved capturing it all! Catherine and Bastien met at work and spent a large portion of their relationship together – apart. They were long distance for a long time, and bonded over traveling and humor and that quality time together when they could. For their wedding they planned a short, sweet, and meaningful elopement in the Santa Cruz Mountains. ( I'm not sure I can call it an elopement if there are other people present, but it was a small enough group so I'm going with it).
They reached out to me just two weeks before the day, and I'm so glad I had it available! They found the most beautiful spot for their ceremony in a park – overlooking beautiful rolling hills covered in redwood forest. The day came, and everyone arrived together to the park. There was a short 15 minute hike to the overlook, full of cheer and anticipating and folks meeting. A lot of their families that were present hadn't met each other yet, so it made that time all the more special.
They stood on top of a hill overlooking the mountains and trees and made those most important promises to each other in front of their most important people. There were tears and laughs, kisses and hugs and bubbles. After the quick ceremony we moved to Savannah Chanelle Vineyards for some snacks, wine, and general merry-making. The kids got some fun treats, and the adults did too, and everyone seemed to have a great time.
Catherine and Bastien – it was so sweet to spend these few hours with you guys on this most significant of days. I loved the love and joy in your families as they met to celebrate and support you guys, and I'm so happy for everything you have ahead of you. Congratulations!