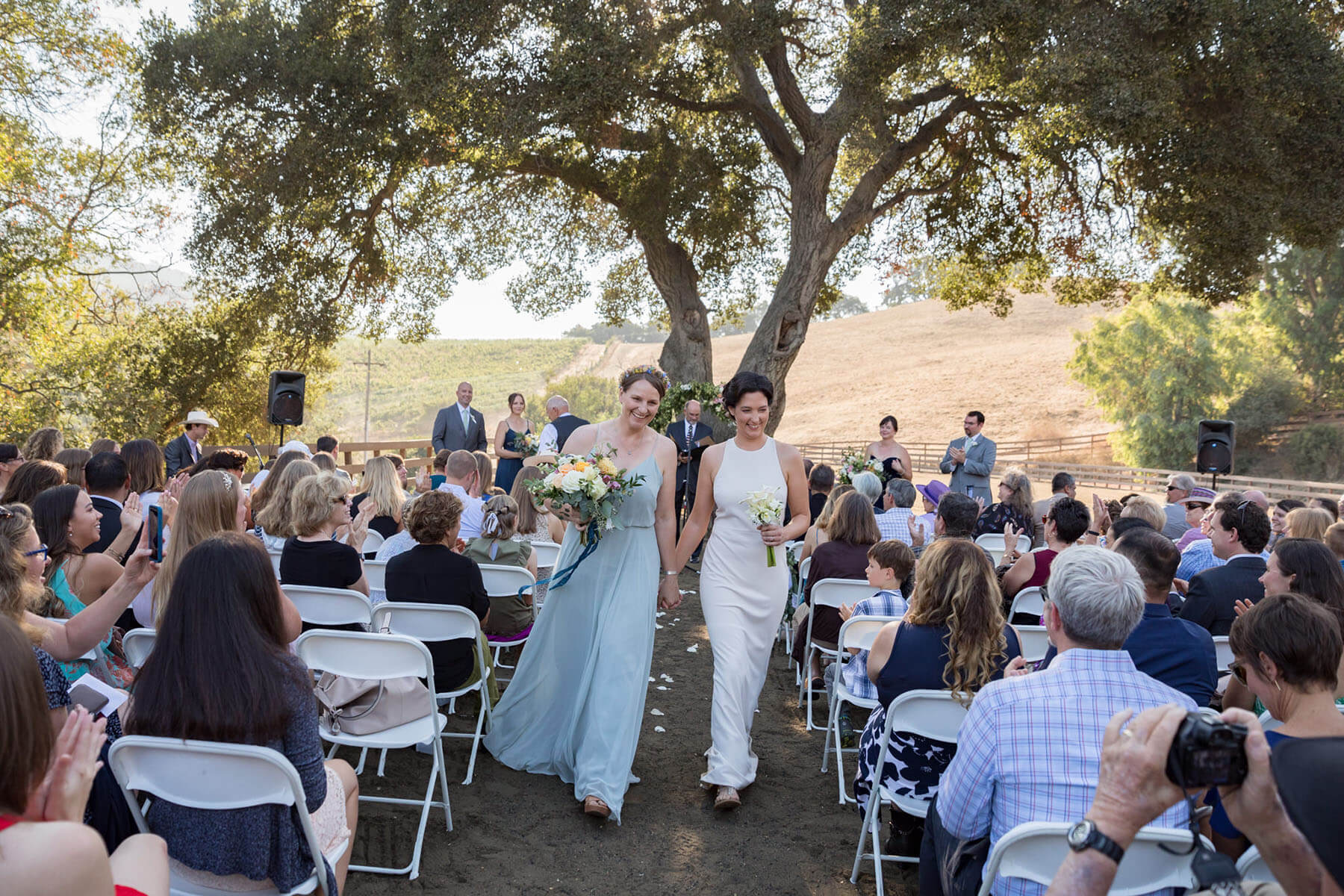 I loved this wedding so much, I'm honestly at a bit of a loss for how to start talking about it. Abby and Cory got ready together at the venue – a Saratoga farm and winery, which has been in Cory's family for generations. Since they'd obviously already see each other, we went straight into doing some portraits. I don't normally include family formals in a blog because – let's be honest, they're usually pretty similar. In this particular case, though, there was a collection of nephews that were so adorableadora I just had to include one of my favorite shots of them with the brides – I'm pretty sure that they are yelling "gummy bears" in this particular photo (hint – if you have small children that need to be photographed, having a bag of gummy bears on hand works wonders in raising the overall enthusiasm). After family photos we went right in to some portraits of the brides on the beautiful property.
The ceremony was set to take place under a magnificent sprawling oak tree, in front of hills covered in grape vines. The scene was completed with an arbor covered in hops and flowers in a mix of pastel colors. Cory and Abby arrived in style in a decorated truck. We and the guests were able to watch the truck coming from a distance, and there was an audible gasp as it turned towards the waiting guests and went straight down (what appear to us) a very steep hill. It was definitely one of the best grand entrances I've seen. As the brides walked down the aisle together, I'm pretty sure there was not a dry eye in the house. After the ceremony while the brides walked back down the aisle to cheers and waves and smiles, we heard a galloping noise and turned around to see that the staff had released a bunch of horses into the adjacent field as a surprise. It was such a happy sight seeing them frolic! What a perfect way to wrap up the ceremony.
Afterwords, we grabbed a few more big family photos, and then moved straight on to cocktail hour. Normally, with a wedding this size the couple doesn't get to spend time or sometimes even say hi with each of their guests, but Abby and Cory planned everything out specifically to maximize their quality time with the people they love. I've never seen quite this many hugs and cheerful exclamations of greeting. It was like everyone was family that hadn't seen each other in a long time (I'm sure that was actually the case for some people, but still). There was a tasty dinner followed by laugh and tear-inducing speeches. After the brides' first dance, it was time to party! We stayed for another hour or so capturing the dancing shenanigans, but even by the time we drove off the celebration was still in full swing.
Cory and Abby – I've known you for only a short time, but even so, I am so happy that you found each other. It was truly a privilege to bear witness to your love for one another and your family and friends on your wedding day <3. Congratulations!
Wedding Partners:
Coordinator: Love Life Bloom
Caterer: BBQ Boys
Flowers: Amerie Wedding
DJ: DJ Consuelo
Cake: Kristen Bosworth (Cory's cousin)