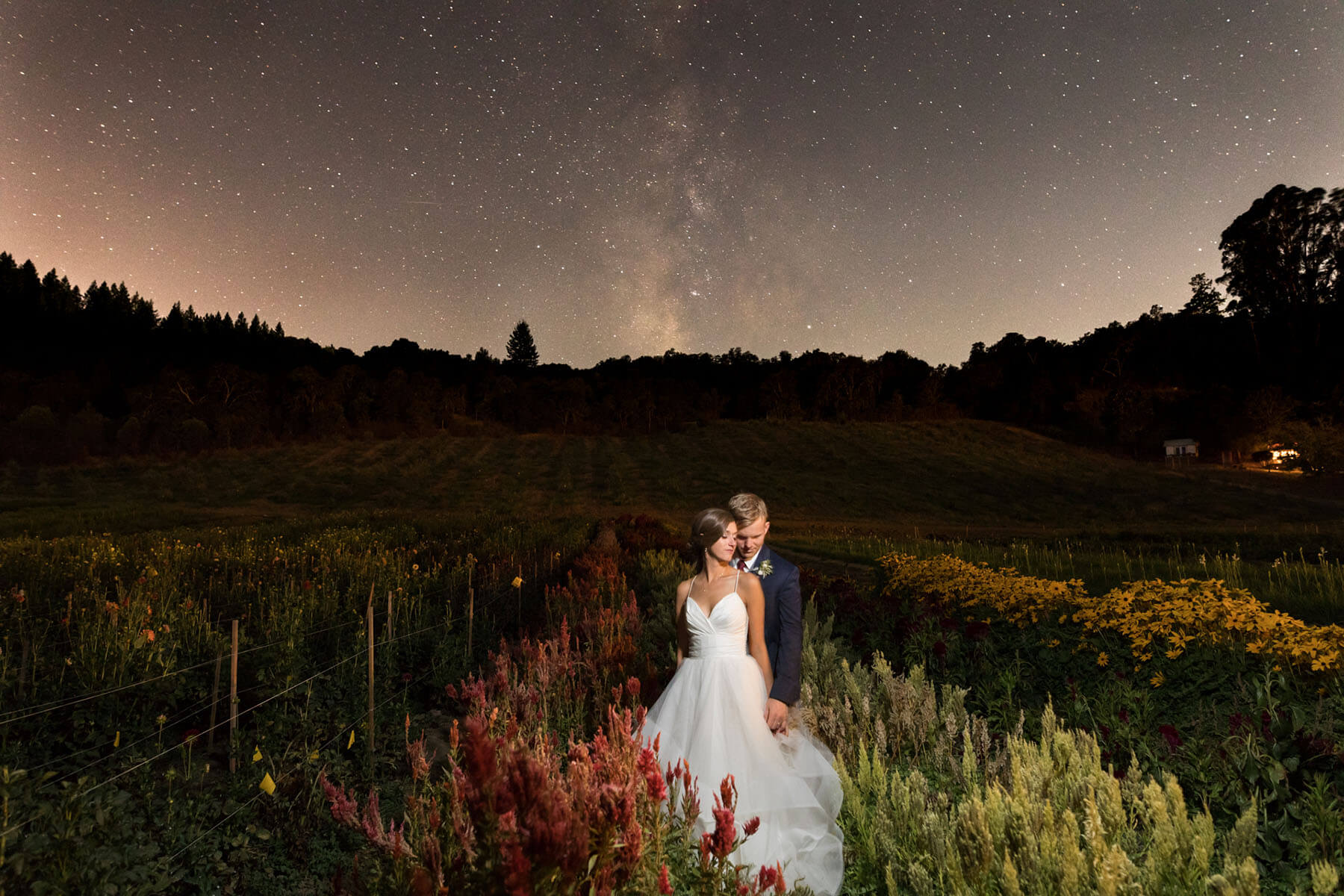 Mallory and Mike's wedding day started as they often do – with them getting ready with their closest friends and family members. They each sent each other gifts, and it was hard not to get emotional as they opened them and read each other's notes. The prepping went by fast and soon it was time for the first look. It was an emotional moment, and it felt like they both were more at ease as soon as they saw each other. The weather was beautifully sunny and warm, without being too hot, and the Sonoma farm looked amazing covered in bright fall flowers and ripening veggies and fruits. After the first look came some family and bridal party portraits, and then it was time for the main event!
The ceremony was overlooking the fields and hills of Sonoma, with Mallory's uncle officiating and bridal party standing by. They included their moms in a unique tree-planting ceremony (so cool!) and a nephew got to participate by doing a reading. It was a beautiful ceremony full of laughs and tears of joy (from Mal and Mike, their parents, their friends – not a dry eye in he house)! After the ceremony there was mingling-a-plenty and the bride and groom got to have a drink and snack and hang out with those who came from far and wide to celebrate with them. Right before dinner as the sun was getting low in the sky, we stole them away for some magical sun-kissed portraits in the flowers.
Dinner (much of which was grown RIGHT THERE ON THE FARM and all of which was delicious) was soon served and toasts were given. As the stars came out and the twinkle lights came on, it was time for the first dance. After the dancing took off and we captured some of the awesome dance moves (the kids were the best, not gonna lie), second shooter Scott and I went off to set up the last shot of the night. I love to get at least one night time portrait of the couple right before I take off for the night, and a farm in Sonoma, far away from city lights, provided a unique opportunity – stars. I've been wanting to get a portrait of a couple with the night sky for a long time, and I am super excited that we were able to pull it off.
Mallory and Michael, I am so happy for you! Your wedding was beautiful, and I am sure it's just a hint of what's in store for you guys. Congratulations! <3<3 <3.
Wedding Partners:
Venue: Private Estate, Sonoma Farm, The K Group
Planner: Marilyn Ambra
Catering: Firefly Catering
Flowers: Zoe Hitchner
Hair and Makeup: Brush the Salon
Paper Items: Jessica Stephens Design
Dress: Hayley Paige