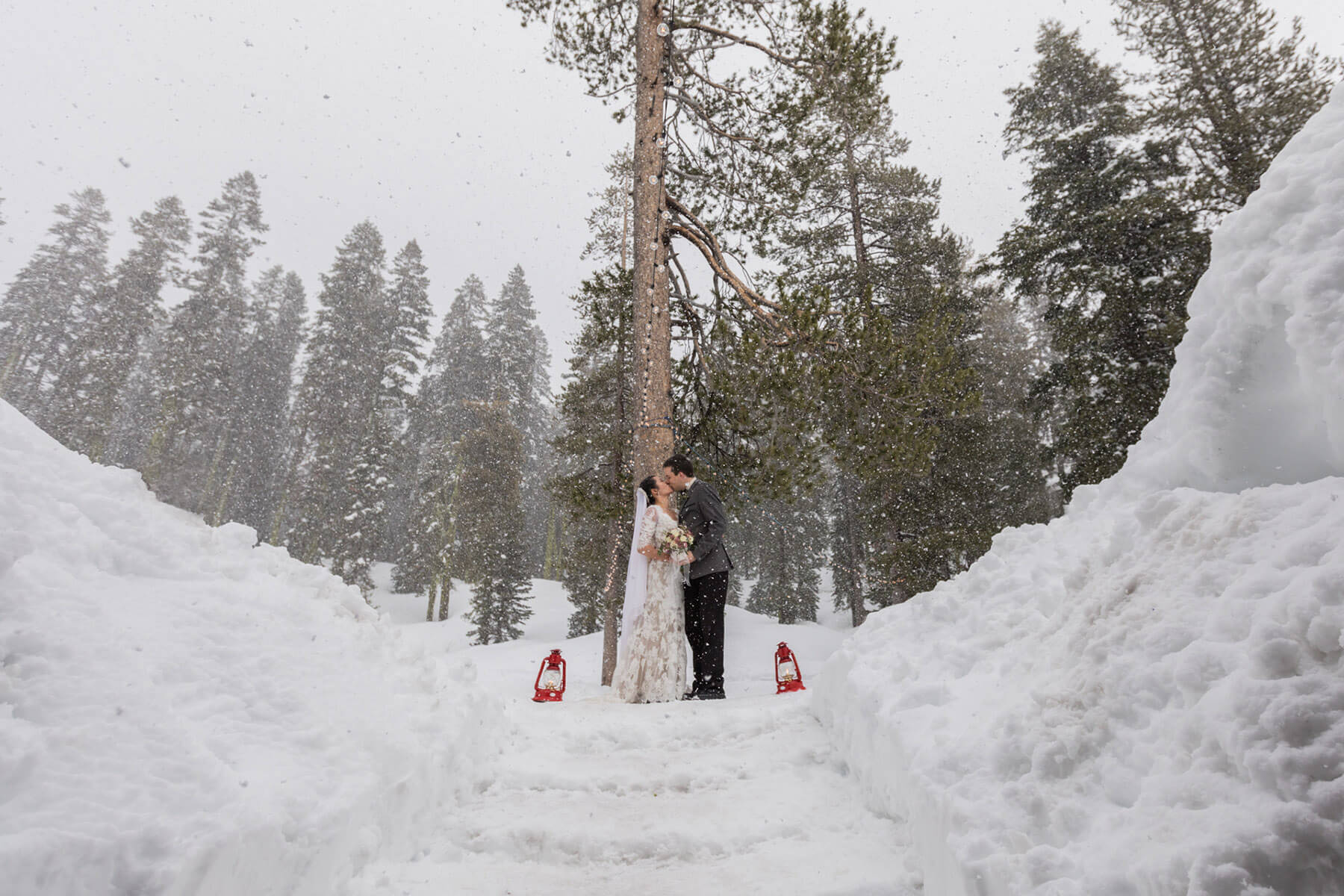 Wooo, boy, was this wedding amazing. And I'm just going to start by saying – I can't do it justice in words. Patially because to describe the whole weekend would take me more words than you care to read. Besides, I know you're just here for the pictures ;). So here's what I'm going to do – I'm subdividing Arianne and Marcel's wedding into three parts. This will be part 1 – the wedding day itself. Part 2 will be their epic snowy photo shoot, and part 3 will be my own personal ramblings about our time at Clair Tappan and what it meant to me to be a small part of this adventure. (And just in case you missed it, you can see their engagement session here. )
The day before the wedding was a stormy one in the high Sierras. We drove in through some fairly blizzard-like conditions (which just made happy as a clam, but more on that later) and it didn't look like an outdoor ceremony was going to be possible. And YET! On Saturday morning we all woke up to stunning blue skies lighting up the icicles and blinding basically anyone silly enough to walk outside without sunglasses. Outdoor ceremony, which Arianne and Marcel had wanted all along, was a go. Throughout their relationship together, adventuring and taking life as it comes (while being prepared for every possibility) has been a theme, and this weekend was a perfect fit for them. For the "getting ready" portion of the day, I followed Arianne and her bridesmaids, mom and sister to a rental house just down the road from Clair Tappan Lodge (where the wedding was to take place). Meanwhile, Marcel and his cohort of family and friends were putting together the last touches of logistical planning. As an aside, I've met few people who get as giddy about logistics as Marcel seems to :P. Everything was calm at the house as the ladies got ready, and soon it was time for the first look. Arianne and Marcel, I'm told, are not historically outwardly emotional – but over the course of their time together, as happens in the best relationships – they changed each other. Suffice it to say, there were many tears throughout the day, and the emotion was palpable. As we took some photos of the first look, the snow began to fall, and the clouds continued to come in and out. It cleared beautifully for the ceremony, and was surprisingly warm (though everyone still enjoyed the custom fleece blankets that were given as favors).
It. Was. Perfect. And, of course, filled with so many tears of joy and laughter.
Right after the ceremony, the snow came back en force, and everyone seemed to have a blast (or were really great at pretending to) trying to take pictures without getting hypothermia.
The toasts were incredible – hilarious and emotional all at once. Everyone seemed unanimous in the conviction that Arianne and Marcel were meant for each other. Finally, there was rejoicing, and partying, and some of the most impressive line dancing I've ever seen.
Arianne and Marcel – thank you so much for bringing me along for the ride. SUCH a blast to have spent this time with you! Here's to all the adventures you will have going forward! It has only begun :D.