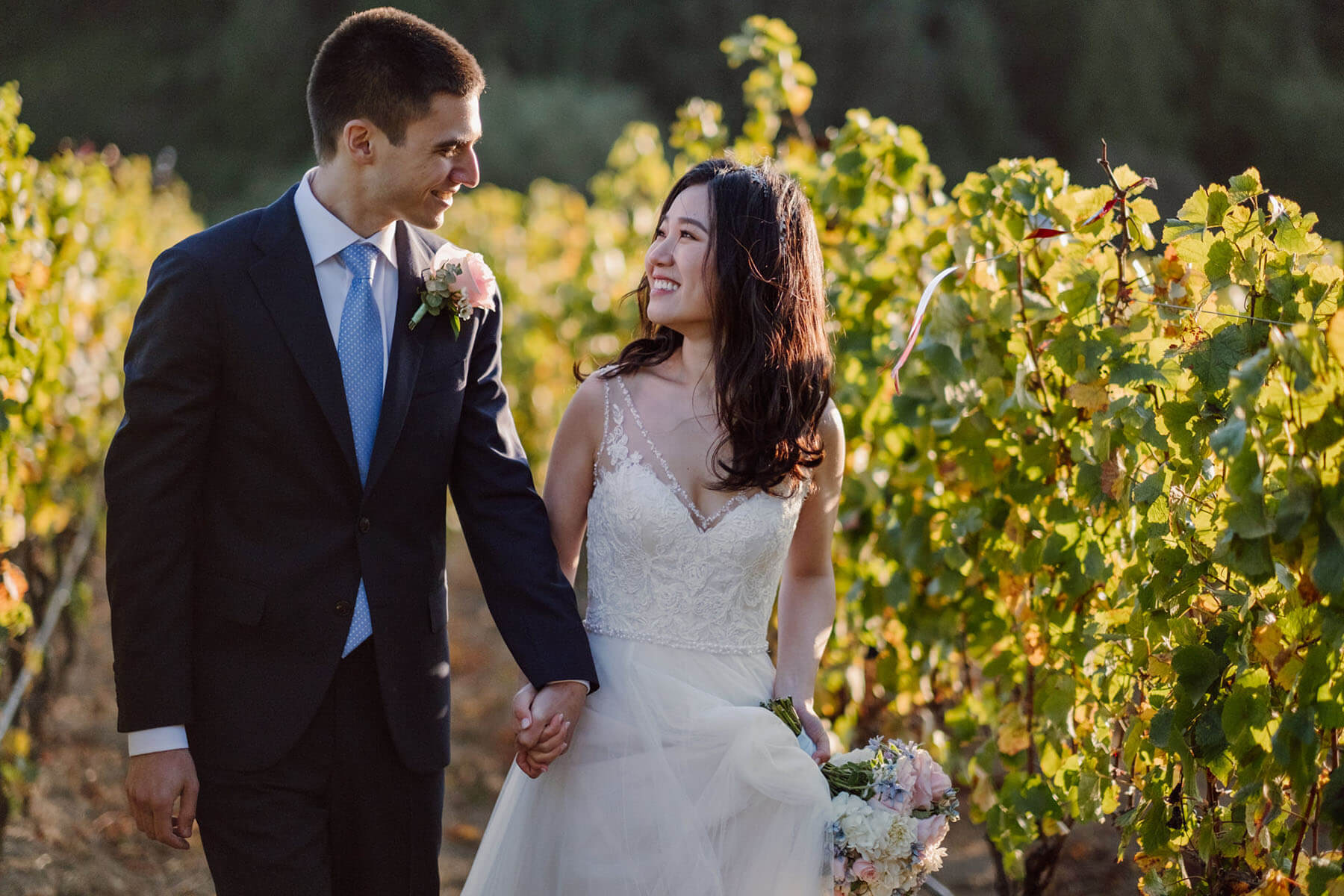 Amy and Michael's wedding at Thomas Fogarty Winery was on a bright and blustery day in September. They both showed up at the venue at about the same time and walked together to their respective getting-ready locations. Amy got some last-minute touch-ups on her makeup while Mike and his friends finished getting dressed. Then their first look set the mood for the day, with lots of laughter and cheer! Despite the wind coming in gusts strong enough to knock over the chuppah, (!!) everyone was in great spirits, and even Amy managed to keep warm enough. During the ceremony, the couple's parents held the four corners of the chuppah to make sure it stayed upright, which was a sweet and unique way to involve them in the wedding! Amy and Mike read vows they wrote themselves, with sweet words and inside jokes about the not-too-simple transition from friendship into love. After the first kiss and the breaking of the glass, they were wed!
We got to have some lovely time during the pre-sunset minutes to frolic in the grapevines laden with grapes, catching the last rays of the sun as they dipped below the tree line. The views from Thomas Fogarty are always incredible, but never more so than during the soft pastel time during and just after sunset.
After we went in there was a series of toasts – which were all a great hit – and dinner from Le Papillon which was one of the tastiest wedding dinners I've ever had (thanks for that, guys!). Finally, it was time for their choreographed first dance, and it did not disappoint! Amy came out in her stunning red reception dress, and the crowd cheered along as they pulled off some pretty impressive moves! Everyone got down and boogied the night away!
Congratulations Amy and Mike! Thanks so much for having me along on this part of your journey – can't wait to see what's next for you guys :D.
Before we get to the pretties, a word of thanks to the awesome wedding pros team that pulled it all together!
Venue: Thomas Fogarty Winery
Planner: A Day Like No Other
Catering: Le Papillon
Flowers: Laurel and Vine
Hair and Makeup: Pins and Curls
Video: Martin Films